Langlauf President's Welcome
WELCOME to the 37th Annual Langlauf 10K Ski Race
February 12th, 2017
Welcome to the 37th Langlauf, New this year will be a 10:00 start with Bloomsday style waves. We decided to start each group with a short delay between them last year to avoid the usual mass start crashes and it kept the start area fun for all participants. We moved the start one hour earlier as a result of many requests. This should help with more consistent snow quality as well.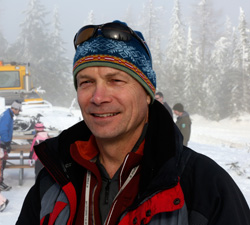 Langlauf is a 501 3c nonprofit. Proceeds generated by the race are redirected back to the Nordic ski community in the form of scholarships to the Junior Racing program or trail improvements like the Warming Hut and MREC. With this in mind we encourage you and your families to support the businesses that support us. Most of our sponsors have participated for years. As a result of their sponsorship we will be giving away close to $6000 of prizes based on a random drawing of bib #. Thanks again to our wonderful sponsors and to you for participating.
Back to our event, the race follows our now traditional 10 k course around the Nordic Trails at Mount Spokane State Park. Maps are posted in Selkirk Lodge and on our website. Get there early and you can have the wax pros from Fitness Fanatics apply the wax of the day for free to your skis.
There are several other races throughout the winter thanks to the efforts of the Nordic club. More information on them can be obtained on the Nordic club website at www.spokanenordic.org. You will also find a link to a web cam and the weather station on Quartz Peak (a great site to use for pre waxing and clothing selection) as well as grooming conditions.
If you mail in your entry please provide your email address on your registration form. This will allow us to contact you for future events saving the environment by printing less. We will only contact you about Langlauf related events, and you may opt out at any time.
Tim Ray, President